Natural gas production in Egypt has been in decline, falling from a 2009 peak of 5.8 billion cubic feet per day (Bcf/d) to 3.9 Bcf/d in 2016, based on estimates in BP's Statistical Review of World Energy.
The startup of a number of natural gas development projects located offshore in the eastern Mediterranean Sea near Egypt's northern coast has significantly altered the outlook for the region's natural gas markets. Production from these projects could offset the growing need for natural gas imports to meet domestic demand, according to the Egyptian government.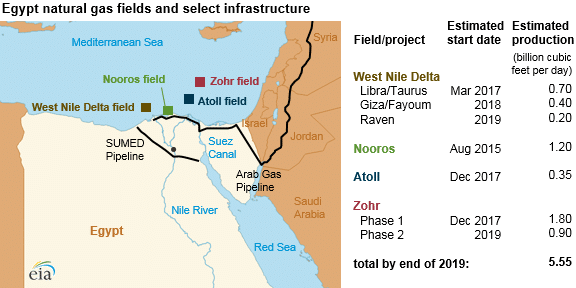 The West Nile Delta, Nooros, Atoll, and Zohr fields were fast-tracked for development by the Egyptian government and have begun production, providing a substantial increase to Egypt's natural gas supply. The Zohr field's estimated recoverable natural gas reserves of up to 22 trillion cubic feet (Tcf) would make it the largest natural gas field in the Mediterranean, based on company reports gathered by IHS Markit. The Zohr field is currently producing 1.1 billion cubic feet (Bcf) per day and is expected to increase to 2.7 Bcf per day by the end of 2019.
Natural gas production in Egypt has declined largely as a result of relatively low investment, according to Business Monitor International research. Meanwhile, domestic demand for energy has grown, driven by economic growth, increased natural gas use for power generation, and energy subsidies. With the exception of small declines in 2013 and 2014, natural gas consumption has increased every year since at least 1990, and it is up 19% from 2009, when domestic production peaked.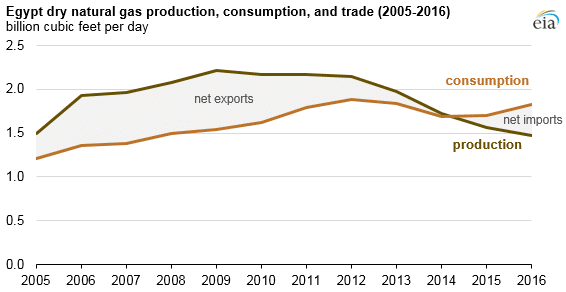 Faced with growing demand and declining supply, Egypt had to close its liquefied natural gas (LNG) export terminals to divert supply to domestic consumption. Egypt became a net natural gas importer in 2015, and although LNG exports resumed in 2016, Egypt's net imports of natural gas continued to increase.
The Middle East Economic Survey (MEES) indicated that Egypt will still need to import small volumes of natural gas in the coming years, particularly for the power sector. MEES reported that the state-owned Egyptian Electricity Holding Company (EEHC) awarded contracts that would add 25 gigawatts (GW) to total generation capacity, 70% of which would come from natural gas-fired projects. Three combined-cycle natural gas turbine power plants with a total capacity of 14.4 GW will collectively require as much as 2.0 Bcf/d of natural gas when they become fully operational in 2020.
For more information, see EIA's recently updated country analysis brief on Egypt.