SOCAR and BP signed a new production sharing agreement (PSA) for the joint exploration and development of Block D230 in the North Absheron basin in the Azerbaijan sector of the Caspian Sea.
The PSA was signed in London, in the presence of UK Prime Minister Theresa May and Azerbaijan's President Ilham Aliyev, by Rovnag Abdullayev, President of SOCAR, and BP group chief executive Bob Dudley.
Speaking at the signing event Mr Abdullayev said: "We have a long tradition of successful cooperation with BP. I believe that the synergies between modern upstream technology and unique historical experience, embodied in both companies, create a solid basis for our continued success. Being based on fair and equal conditions, today's agreement will become an important milestone in the pursuit of the highest degree of efficiency in the joint development of the natural resources of Azerbaijan."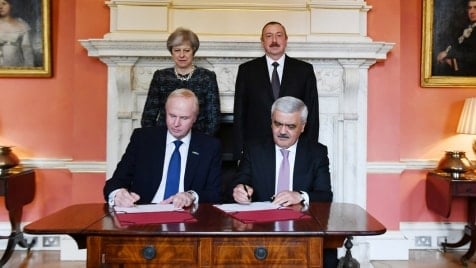 Block D230 lies some 135 kilometres (84 miles) north-east of Baku in the Caspian Sea. It covers an area of some 3,200 square kilometres and has not previously been explored. It has water depths of 400-600 metres and anticipated reservoir depths of about 3,500 metres.
Under the PSA, which is for 25 years, BP will be the operator during the exploration phase holding a 50 per cent interest while SOCAR will hold the remaining 50 per cent interest.
The signing of the PSA follows the Memorandum of Understanding for exploration of Block D230, which was agreed in May 2016.
BP and partners signed their first PSA in Azerbaijan with SOCAR, covering the development of the Azeri, Chirag and Deepwater Gunashli (ACG) field, in 1994. Production from ACG began in 1997 and the field has since produced over 3.3 billion barrels of oil. In 2017, SOCAR and the ACG partners signed an amended and restated PSA that extends to the end of 2049.
BP and partners signed a PSA for the development of the Shah Deniz gas condensate field in the Caspian in 1996 and production began in 2006. The major second stage of the development of the field, Shah Deniz 2, is scheduled to start production later this year.
BP has also signed earlier two exploration PSAs with SOCAR: a PSA for the Shafag-Asiman offshore block was signed in 2010, and a PSA for the shallow water area around the Absheron Peninsula in 2014. Under both PSAs, seismic programmes have been completed and work continues for drilling plans.